Shahrad Mezerji/Staff Reporter
Many students in Canada have had the experience of people questioning them to express their identity. According to Tricity news, on November 1, 2021, an unnamed 15-year-old student attending Elizabeth Secondary School in Kitimat was allegedly questioned by his teacher for wearing his regalia on picture day.
The boy was excited to wear his regalia, but his excitement quickly turned into confusion when his teacher allegedly asked him in front of the class, "What's up with the costume today?"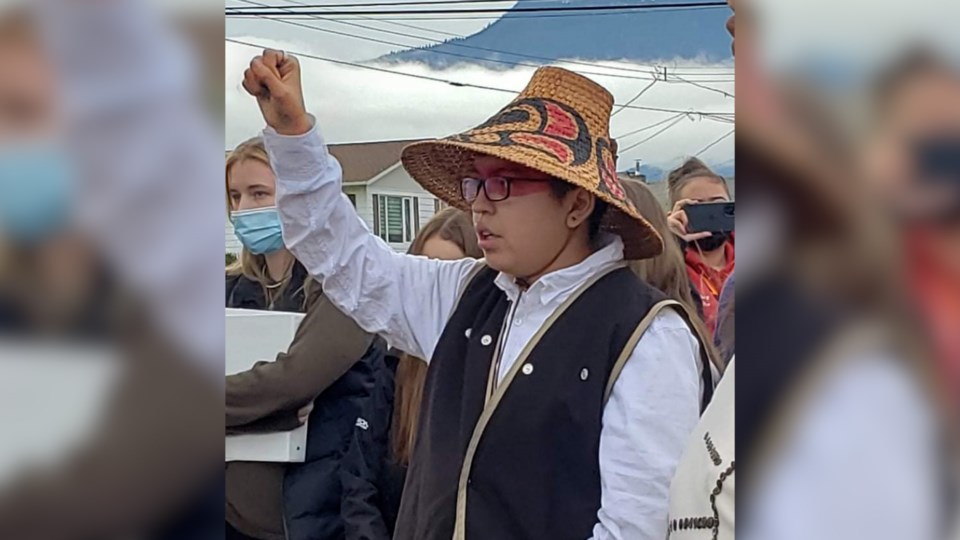 Stacey Smith, the boy's mother, tells glacier media that her son is proud of his indigenous identity. He draws indigenous art. numerous other activities
"It was picture day, and it was his choice to wear it. He wasn't doing anything to bring a negative outlook on it," Smith says. She added that anyone who knew him would know that it was his passion and pride.
The incident first came to light when her husband, Alex Grant, posted about the incident on social media.
Haisla Nation Council says they are disappointed to hear of the "troubling" incident. They stated that they would unite to express their disappointment about the incident and stand by all members who wish to honour their culture and traditions in school and elsewhere. The council says they are working with the school to address what transpired and make sure youth feel safe and welcome to express themselves in Kitimat and the region.
Janet Meyer, superintendent of schools, added that they are currently taking the appropriate steps to ensure Haisla culture is alive and visible.
The teacher's name hasn't been publicly revealed, nor have any actions been announced at this time.
Since the incident, classmates have shown support by standing outside Mount Elizabeth Secondary School on October 27 and 28. Smith says the support has touched her son.
I relate to this student; having immigrated here eight years ago, I dealt with similar situations. When I was a kid, my third-grade teacher would often laugh or ask about the foods I ate. My teacher's remarks confused and hurt me. Over time as I didn't address this situation, I started to eat less of my cultural foods, eventually not eating any at all.
Taha Asadi, a grade ten student, spoke about his experiences while representing his culture "I have been questioned, for example, once a teacher asked how my summer was and I told them about how much fun I had in Iran. My teacher said, "I did not know you could have fun in a place like that" Afterwards, I was shocked and hurt."
Commenting on others' cultures can cause them to become insecure and sometimes ashamed of their culture. People should watch what they say about other cultures, especially teachers commenting on students. Teachers participate in students' daily lives, and if a teacher were to make students uncomfortable, it would make the students' school life very difficult.
Schoolboards should educate teachers on their responsibility as educators, and they need to understand that they have to be sensitive about cultures they don't understand. A teacher has a direct effect on a student's learning and education.
The teacher who commented on the young boy's regalia should be reprimanded and taught about their responsibilities. The teacher should be fired and get their teacher's license revoked for the damage she has caused to the young boy. All teachers should be aware of how they influence students and be sensitive about specific subjects. It is not about punishing teachers for being wrong, and it's about educating everyone, including teachers, about being respectful of one another's culture.
Kitimat student questioned for wearing his reagalia at school
'It's not a costume': First Nations student mocked for wearing regalia to B.C. school | CTV News
B.C. teacher questions student for wearing regalia at school – Victoria Times Colonist